Update: one year later: ArrayFire+OpenCV
The OpenCV library is the de-facto standard for doing computer vision and image processing research projects. OpenCV includes several hundreds of computer vision algorithms, aimed for use in real-time vision applications.
LibJacket is a matrix library built on CUDA. LibJacket offers hundreds of general matrix and image processing functions, all running on the GPU. The syntax is very high level and easy to use.
LibJacket with OpenCV
For anyone out there interested in using both libraries together (ie. wanting parts of their code to run faster on a GPU very easily), I have put together a simple example application that demonstrates using OpenCV's for webcam access and LibJacket for some basic processing routines and displaying results.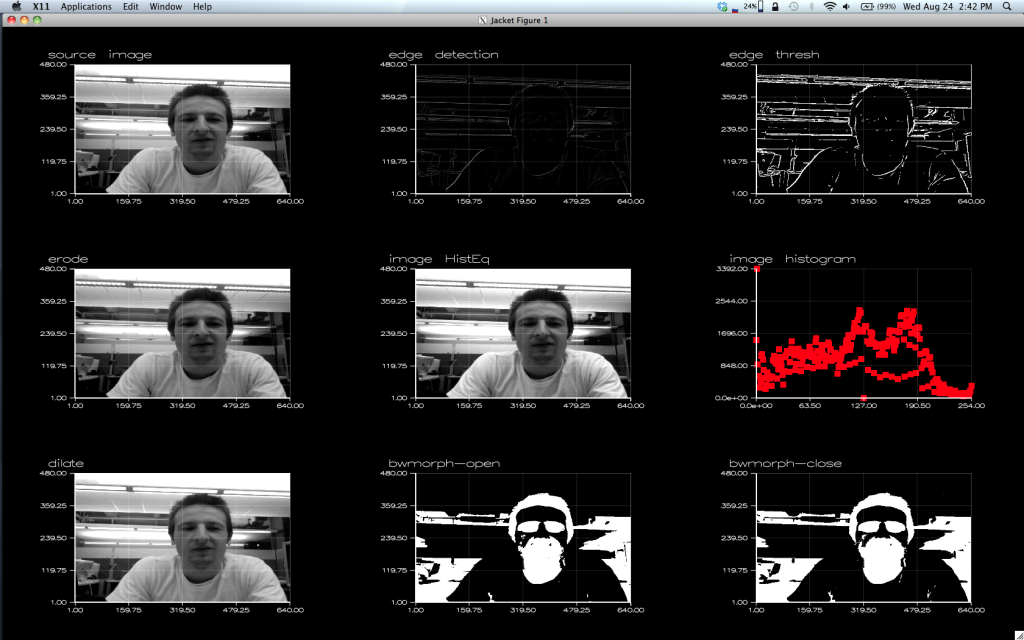 [ Linux/Mac Only ]
To run this example, simply download the source code (webcam_demo.cpp) and Makefile HERE, and place them in your libjacket/examples/image/ directory, and type:
make && ./webcam_demo
You must have a copy of LibJacket and OpenCV installed first, of course!
Sample code
Excerpt code snippit from webcam_demo.cpp:

// extract cv image
Mat mgray (img.rows, img.cols, CV_8UC1);
cvtColor(img.t(), mgray, CV_BGR2GRAY);
mgray.convertTo(mgray, CV_32FC1);
float* fgray = (float*)mgray.data;


// copy to gpu
f32 I1 = f32(fgray, img.rows, img.cols);

// display window
figure(); colormap("gray");
subplot(3, 3, 1); imagesc(I1); title("source image");

// process
...
...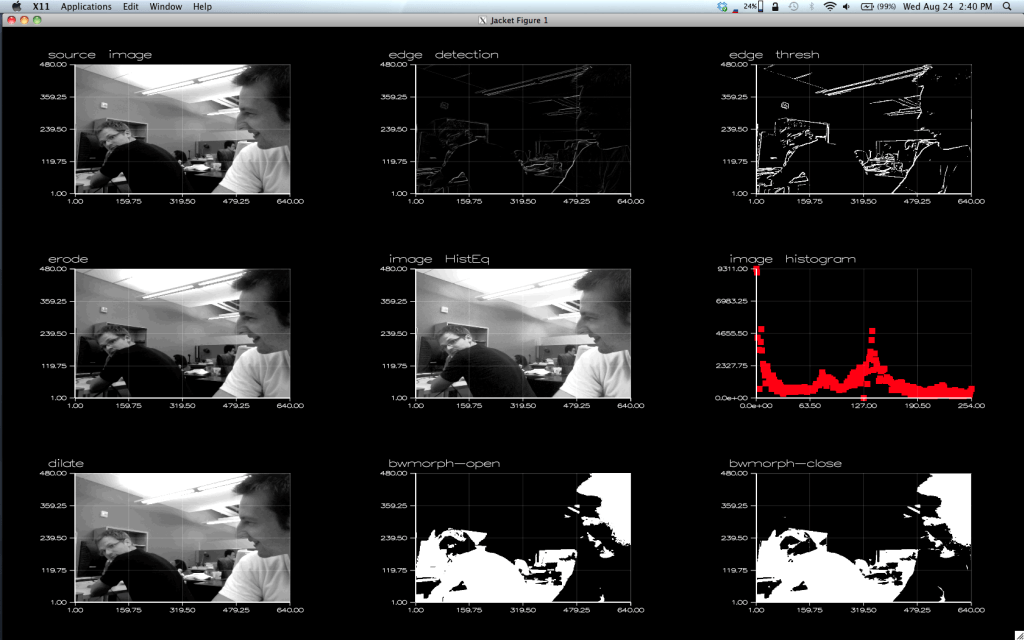 New Example!: TV-L1 optical flow using LibJacket!
Update: one year later: ArrayFire+OpenCV